Products
NZ Herbs and Seaweed Healing Ointment
Excellent for deep cuts and surface cuts, eczema, boils, piles, itchy bites, burns, grazes, cold sores....the only ointment you need in the medicine cabinet!
Contains:
Evening primrose oil with antioxidants to help slow the ageing process;
Rosehip seed oil with vitamin E for healing;
Rose geranium oil;
Almond oil for soothing and healing;
Carrot oil;
Rescue remedy for shock;
Kumarahou for skin irritations and rashes;
Karamu for itching;
Harakeke; Pukatea; and Koromiko

The NZ native wild herbs are hand-picked and hand pressed. Because this product is unique and uses natural ingredients it should be kept out of direct sunlight.
50gm: $35 or mix & match any 2 creams for $60
Back to products overview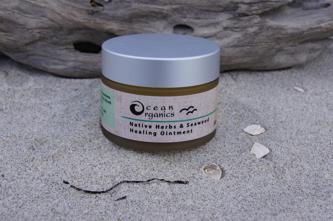 Ocean Organics
Natural Healing Range